About Us
RTELC History
The Rose Tree Early Learning Center officially opened our doors on July 1, 2021 as an independent 501(c) 3 non-profit organization. Located at 145 W. Rose Tree Rd. in Media, PA, we continue the tradition of quality education and care previously provided by Rose Tree Day School.

Since 1979, Rose Tree Day School has operated as part of the Unitarian Universalist Church of Delaware County (UUCDC), falling under the church's religious status as a non-profit organization. In October 2020, after careful consideration of both the church's current and future evolution and the increasing complexities of running a day school, the UUCDC's board made the determination to cease operations of the Rose Tree Day School effective June 30, 2021.

For more than 40 years, Rose Tree Day School has provided exemplary early childhood learning programming to the local community led for the past 30 years by Director, Andrea Sampson and Educational Coordinator, Marianne Conway. With the need for the type of high-quality programming and safe and nurturing environment that Rose Tree Day School provides at an all-time high, the decision was made to incorporate the school as its own independent entity under the continued leadership of Ms. Sampson and Ms. Conway bearing the new name of Rose Tree Early Learning Center (RTELC).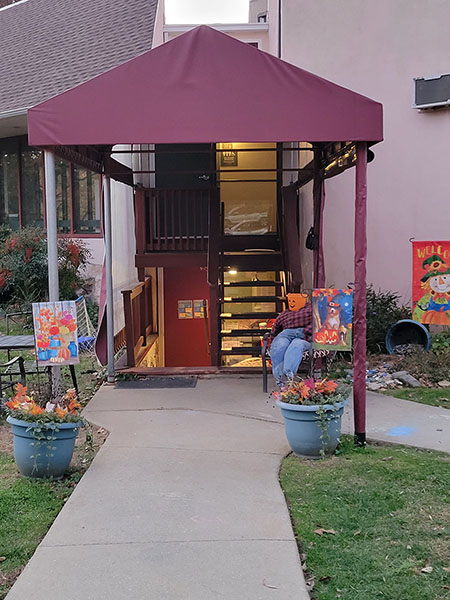 Statement of Philosophy:

Rose Tree Early Learning Center believes it is the right of all children to develop to their fullest potential. RTELC provides an environment that fosters the child's total development. We encourage a child to learn to be capable, self-confident, sensitive, independent, and inventive with the strength and courage to meet this challenge by encouraging mental and physical growth. Our center provides a relaxed atmosphere that invites the child to explore and discover.

We believe that play enables children to test out their hypotheses about the real world. Play is the surest, fastest path to learning, self-confidence, and the mastery of many skills. Play situations generate cooperation and independence. Through play, we feel that children will discover and invent many things by themselves.

Mission:

The Rose Tree Early Learning Center is dedicated to deliver an exemplary early childhood educational experience in a safe, nurturing and stimulating environment for children and families in Delaware County, PA. Working with our families and community, we promote inclusion, diversity, compassion and support to help children prepare for a lifelong love of learning. Distinguished by teaching excellence, RTELC is committed to ensuring that the needs and strengths of each child are realized.

Vision:

Early education for children to have the opportunity to reach their fullest potential.

Core Values:
Excellence:
Achieving accreditations, reflecting on all practices, continued quality improvement and through continued dialogue on emerging criteria we aspire to achieve excellence .


Children:
The interests, needs and strengths of children are our first priority. We strive to provide children the opportunity to develop and learn in an environment that is safe, nurturing, stimulating and responsive to individual differences to afford them to reach their fullest potential and become future leaders and contributing members of our community.


Family:
We believe that a child's family is the first teacher. Through forming partnerships and mutual sharing of information and communication regarding children and their families, RTELC is able to provide the best educational opportunities for children.


Teachers:
Teachers are role models to children, offer guidance and dedication and give young people the power of education.


Community:
When, as a community, we make sure that everyone can reach their potential and fully contribute to our communities, everyone benefits. Maximizing the potential of children, people who are our neighbors, our workforce, and our civic body ensures that our communities remain vibrant places to live, work, and play. Inclusion and Diversity: We honor and support diversity and inclusiveness in our children, families, staff, community and nation.


Advocacy:
The earliest years of a child's life are a crucial time for learning—and right now is a crucial time for us to advocate for the future of our children, families and economy. As advocates for quality early care and education, we focus on creating awareness, building support, working for change, developing professionalism and promoting child and family issues.


Collaboration:
The RTELC staff create an inclusive collaboration of educators, families and community workers, which expands our perspectives, allows us to work through differences and facilitate novel approaches. Collaborative planning supports continuity and positive transitions within and between early childhood settings, as well as enhancing holistic and integrated approaches to achieving learning and development outcomes.


Professionalism:
It is vital that we are seen as professionals in our field. Early childhood professionals are individuals who promote high standards for themselves. We make sure that we are doing absolutely the best that we can for young children. All RTELC members follow the NAEYC Code of Ethical Conduct.
Show More...