Keystone STARS:
Standards, Training, Assistance, Resources, and Support
Keystone STARS is an initiative of the Office of Child Development and Early Learning (OCDEL) to improve, support, and recognize the continuous quality improvement efforts of early learning programs in Pennsylvania.

Early learning programs can earn from a STAR 1 to a STAR 4 level. At each level, programs have to meet certain quality standards.

The higher the STAR level, the higher the quality standards. Rose Tree Day School entered the STARS program since its inception in Pennsylvania. We have continually met the requirements and standards to participate at a STAR 4A level. We work diligently to keep up-to-date on all changes and initiatives.

At a STAR 4 level, families will have:

Early childhood teachers who have advanced training and knowledge for working with young children.

A program that provides a variety of materials and activities for each age level that makes it possible for children to learn something new every day!

A quality program with sound business practices to ensure your child's safety and early learning.

Families and community members working together to become a part of your child's learning process.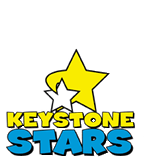 click here to learn more about Keystone Stars
click here to learn more about Pennsylvania's Promise for Children